Sandblasting Rust
Corrosion damages and weakens materials, often leading to premature failure when left unmanaged. Eliminating rust and corrosion is an essential step in preparing a surface for a protective coating. Fortunately, sandblasting with the correct blasting media for rust can remove corrosion and leave a clean surface behind. Choose an effective alternative to sand for better results and many other advantages.
10X Engineered Materials uses our focus on engineering to deliver industry-leading blasting abrasives for rust, corrosion, and coatings removal that inferior abrasives leave behind, which affects surface quality. Make an engineered decision and opt for quality abrasive media that optimizes your blasting system.
Rust Removal Made Easier With 10X Abrasive Media
We produce one-of-a-kind abrasives using a mineral wool byproduct. These superoxalloy abrasive particles come from the formation of premium, high-performance mineral wool insulation. As fibers form, so do granular pieces of shot. The long, wool-like fibers continue through the manufacturing process while the shot byproduct is collected for refining into a tough, cost-effective abrasive blasting media.
10X Engineered Materials has developed specialized processes to ensure uniform size, minimal dust, and high purity. These procedures also remove any residual iron, making the media suitable for nonferrous materials that are not compatible with iron contamination.
The abrasives offer more efficient blasting, requiring less time and material while providing a better-quality surface result.
10X Engineered vs Rusted Tank
A contractor preparing a tank for recoating blasted through a 50lb bag of copper slag in 2 minutes and 43 seconds, removing only 5 sq. ft. of rust from the tank. The copper slag showed visible signs of embedment, potentially triggering rust bloom.
When the blasting media was switched to superoxalloy abrasive, 50 lbs. of KinetiX 20/70 finished the rest of the job in 10 minutes and 8 seconds. Less abrasive used and an increase in speed produced a 33% cost savings for the job compared to copper slag. In addition, KinetiX left a brighter, cleaner, ready-to-coat surface with no embedment.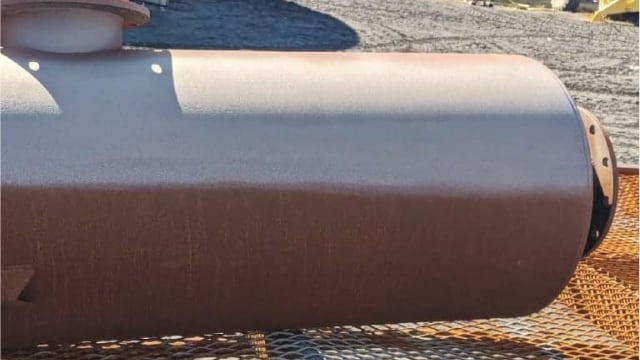 Benefits of Our Abrasive Media for Sandblasting Rust
These high-performing, patented products offer several advantages during abrasive blasting for rust removal.
Safety & Environmental: Where other blasting media is bio-persistent, we offer the only biosoluble blasting abrasives for rust removal on the market. Beyond their ability to break down, these products produce very low dust levels, enabling your team to work safely with high visibility and less contaminated air. Mineral wool is also a safer substance than materials like sand, further promoting a healthier work environment.
High Work Energy & Low Consumption: Our specially formulated particles are suitable for blasting at higher pressures than other media, including pressures higher than 130 PSI. These abrasives are stronger and tougher than other blasting products, allowing them to do more work per particle and reducing the amount of abrasive material needed to prepare each substrate.
Reusability: Our unique class of abrasive media is engineered for durability. These tough particles offer excellent performance through multiple uses, making blasting for rust removal even more cost-effective. Higher reusability and lower dust levels also keep your work environment cleaner.
High Surface Quality: Superoxalloys offer rust bloom resistance, delaying corrosion, which is a chemical reaction that forms rust on the substrate. Our abrasives also don't leave particle remnants embedded in the blasting surface.
Contact 10X Engineered for Rust Sandblasting Abrasives
At 10X Engineered Materials, our experts leverage decades of industry expertise to develop innovative technologies. Our patented superoxalloy abrasives include EpiX precision-grade abrasives and KinetiX high-production grades.
Improve your blasting system's performance and remove rust efficiently with media developed to withstand the task. View our products to purchase them online, or contact our team to discuss your project and application needs. Call us at 260-253-2278 for assistance finding the right blasting abrasive media for your rust removal needs. You can also find a distributor in your area to purchase EpiX or KinetiX abrasive media locally.